Sell Your Geodata with NextGIS Web
Using Web GIS to set up a geodata subscription service: the GIS Polygon experience

Selling GIS data and providing services around it is an exciting business opportunity. The challenge is to "package" your data for consumers. NextGIS Web can serve as the medium to do exactly that: manage your data, showcase it for potential clients, and help them access and use it with no additional software. You can even private-label the service and provide it under your own brand.
Introducing GIS Polygon
Earlier this year, Liniya urban planning studio used NextGIS Web to develop and release its GIS Polygon service. The Polygon team extracts territory zoning and development rules, official planning projects, and other information from urban planning documents.
The information is then published as two maps. The first map is public. It is embedded on the landing page and serves as the preview of the data available. The second map is a fully functional map only available to subscribers. Its geodata is hosted on NextGIS Web as web maps with vector and raster layers, and layer attributes include information about features and links to source documents.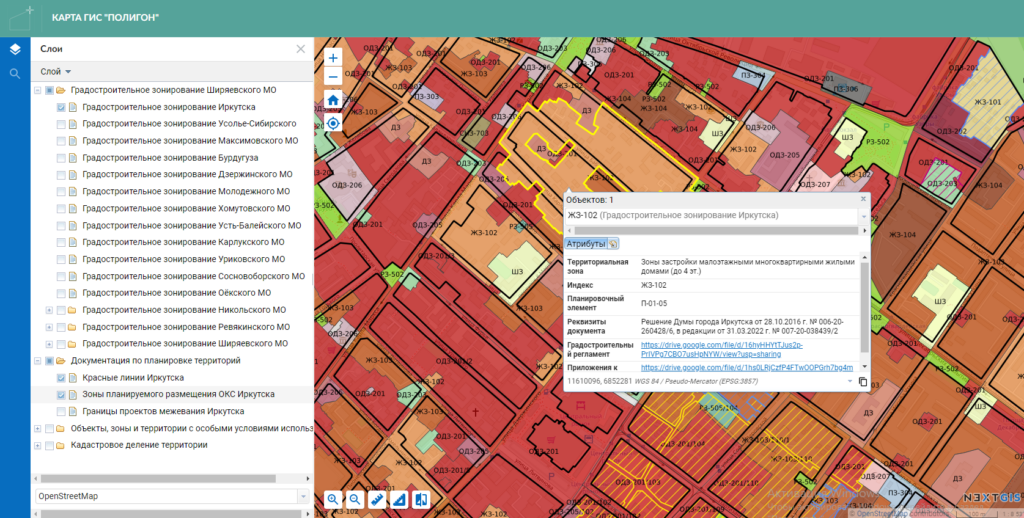 To get access to the fully functional web map, a client creates a personal GIS Polygon account with a choice of daily or monthly billing. Once payment is complete, the client receives access information for the web map, which is made possible through the NextGIS multi-user access management system.
When we first got the idea for the service, we thought about using ArcGIS Online. But we quickly realized that NextGIS was a much better choice – it had all the tools we needed. We already use NextGIS QGIS to process our data, so using the same service to make the data seamlessly available to our clients was exceptionally valuable.
Anna Melnikova,
the head of GIS "Polygon"
A look "under the hood"
This is how the service works on the GIS Polygon side:
The GIS Polygon team uses

Tilda

to publish general information on functionality and pricing on the company website.

They use the

BILLmanager

sales automation platform to handle the clients' personal accounts, billing, and subscriptions.

Finally,

NextGIS Web

handles geodata storage and visualization and provides client access.
The lion's share of the work is done in NextGIS Web. GIS Polygon is updated weekly with new data, and the information is immediately available to subscribers. As new information is added, the team updates the company website to highlight available data. Currently, urban planning data is available for the City of Irkutsk, Usolye-Sibirsky, and districts of the Irkutsk Region.
Information in a couple clicks
GIS Polygon primarily serves real estate developers, land use consultants, and urban planning agencies. The appeal of the service is in the efficient, seamless delivery of information from the GIS Polygon research team to the clients.
Builders and developers need to quickly assess the potential of a land plot. Although the official information is public, you need to spend time and effort making requests and waiting for responses. It is also common to receive the information in a form that requires further processing, analysis, and presentation. All this takes time and delays decisions. Using our service, the decision maker can view the necessary information in two clicks.
Ruslan Khotulev,
chief architect of Liniya PW
You can do it, too!
GIS Polygon is an example of how you can give your customers online access to geodata on a subscription basis. Here is the cost breakdown for setting up a similar service (not including the cost of developing the maps themselves):
Company website:

Tilda Business plan $20 per month.

Sales automation:

BILLmanager – $50 per month.

Data delivery and client access:

NextGIS Premium subscription for 10 users – $85 per month.
No programming skills are required to set up the service, and you can scale up your NextGIS subscription as you acquire clients. So, get NextGIS Premium, create your own Web GIS, and start bringing more value for your customers!
Get connected!