NextGIS updates – web analytics, satellite imagery, and platform acceleration

NextGIS has become faster, more convenient and more functional. In today's digest: new products, features, improvements, and interesting projects.


NextGIS Web
Who's viewing your Web GIS
You can now track visitor statistics of your Web GIS by connecting it to Google Analytics. Premium users can access behavior maps, the number and characteristics of visitors, and much more.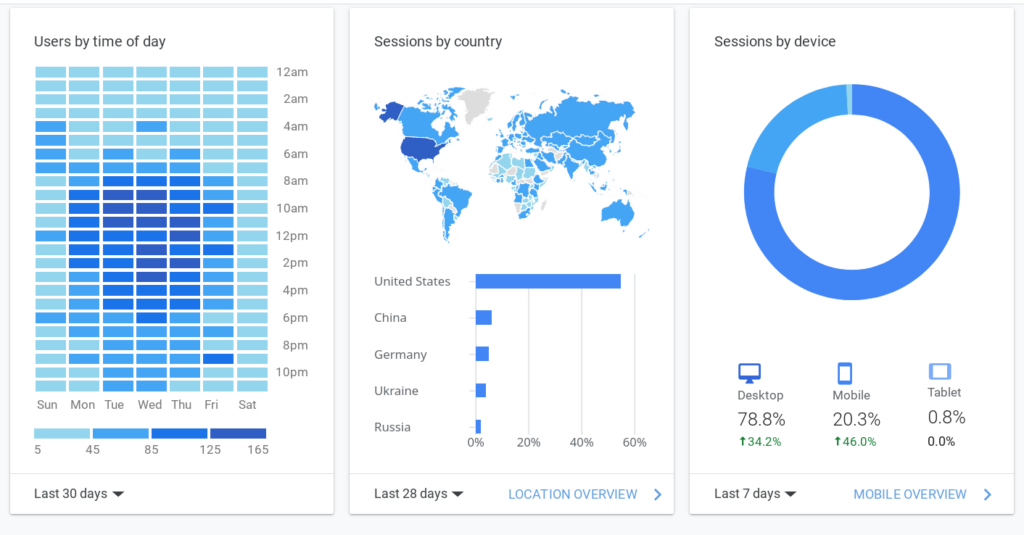 Get Premium on our website. Existing Premium users interested in accessing the metrics should contact Support for assistance.
Get Premium Send a message to support
Edit objects with Z-coordinate
If the geometry on your 2D maps has a third dimension (PointZ, LinestringZ, PolygonZ and the like), it can now be edited on the web map. Geometry vertices with Z values will retain their values when knots (points) are moved.
We've also made changes to the OpenLayers public library to handle these geometries more accurately.
Platform acceleration and other features
As part of the NextGIS Web interface upgrade, we have doubled the loading speed of administrative pages and the control panel.
We've simplified the process of deleting resources from Web GIS by removing intermediate pages. Bulk deletion has also become possible: select folders, layers and web maps for deletion using checkboxes and delete them as a group.
The ability to add descriptions and attachments to layer objects has become available in the web map interface. If there is no description or attachments, then those tabs will not be there, but you will see buttons for adding them instead.
NextGIS Data
Satellite mosaics for any territory
Space imagery data is now available on NextGIS Data. Order cloud-free Sentinel satellite data mosaics for any country, region or custom area!
Mosaics based on 2022 images are available in two resolutions:
1:35 000 – resolution 9.5 m

1:70 000 – resolution 19 m
Order data
NextGIS Toolbox
Turn photos with EXIF tags into a vector layer
A new tool has been added to the NextGIS Toolbox collection. It allows you to convert photos with EXIF location tags into a NextGIS Web point vector layer.
To start, you need a ZIP archive with photos containing an EXIF tag, a Web GIS address, and a password for it.
The resulting layer can be added to web maps or exported to NextGIS QGIS for processing.
Transfer to the tool
NextGIS QMS
Only functioning geoservices
We have changed the algorithm for providing the QuickMapServices (QMS) database services to users. Now services that haven't passed validation aren't going to be shown publicly until their creators ensure that they function as intended. As a result, QMS users will only see services guaranteed to work.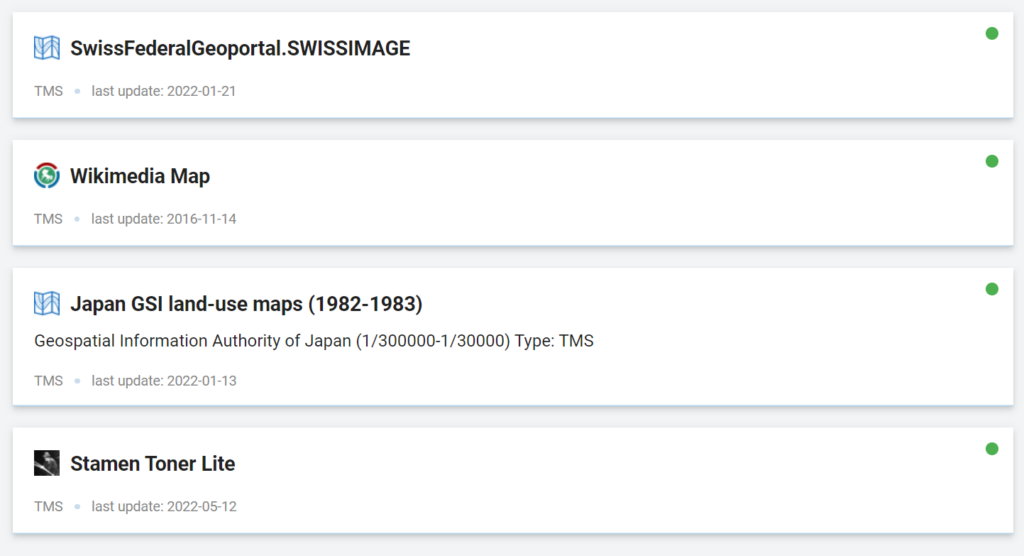 You can see all your drafts and published services in the "My Services" section.
Find geoservices by URL
Our developers have improved the search function in NextGIS QMS. Now you can search for geoservices not only by the name of the service, but also by the URL. For those typing in the URL manually, the search engine will offer search results dynamically as the URL is entered.
This way, you can search for geoservices both on the NextGIS QMS website and through the corresponding plugin in QGIS.
Transfer to NextGIS QMS
NextGIS Frontend
We continue to develop and enhance NextGIS components based on user requests. This also applies to the NextGIS Frontend.
Among the latest changes is the ability to use ngw-ol, ngw-leaflet and ngw-mapbox as plugins for their respective mapping frameworks.
This means that users will be able to connect our libraries to existing code on OpenLayers, Leaflet or Mapbox without changes and will be able to immediately start connecting layers and making requests to the NextGIS Web API.
Learn more
Projects and examples of using NextGIS
Please check out these new articles on practical applications of NextGIS products.
An article about the use of NextGIS technologies in energy companies featuring SUENCO as an example. Read.
A case study of an online geodata subscription service developed using NextGIS Web. The piece includes store owners' feedback and opinions. Read.
11 years in Open Source
This summer, our company celebrated its 11th anniversary. From the first day in the development of our own and public projects, we have been following the path of Open Source. We believe that open source code usage is the only way to make sure that our work continues to live, no matter the circumstances.
The approach we have chosen brings results:
Our core software stack – web, mobile and desktop is open source.

QuickMapServices, our public collection of services, has reached 3.5 million downloads.

On Github, you can find a built system of

more than 100 packages

(CMake) for geospatial libraries and almost

300 repositories

with programs, documentation, tools, projects, scripts and more than 20 QGIS plugins.

We have contributed to GDAL, QGIS, Openlayers, Mapproxy and many other projects.
For a small independent Open Source company, NextGIS, each day during these 11 years was a challenge, and we would like to express our sincere gratitude to our customers for their partnership and support. Each step in the development of NextGIS would not have been possible without you, without your participation and your questions.
Join