Russian State Archive of Ancient Documents (RGADA) is now providing an open access to Web GIS "Blueprints of Russia, 16-17th centuries" developed in cooperation with NextGIS.
New Web GIS contains and allows everyone to peruse the corpus of cartographic drawings of ancient Russia stored by RGADA, as well as associated documents from Archive of St.Petersburg Institute of History of the Russian Academy of Sciences, Department of Written sources of Russian State Historical Museum, and Russian State Library.
Visit "Blueprints of Russia, XVI-XVII centuries"
As of this moment Web GIS provides access to almost every known cartographic drawing from this period (~1000 items).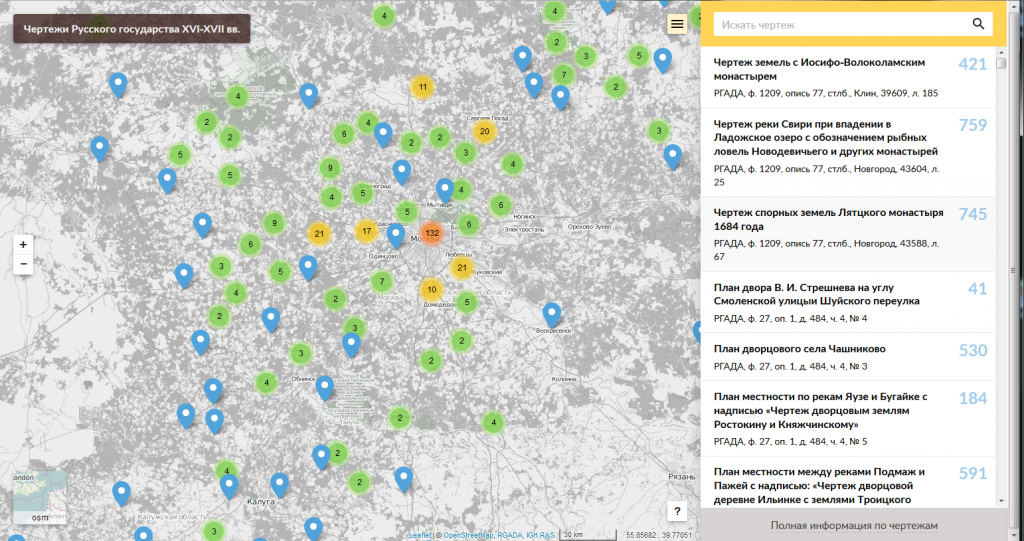 The main work was carried out by Laboratory of Historical Geoinformatics at the Institute of World History of the Russian Academy of Sciences together with Russian State Archive of Ancient Documents and funded by Russian Science Foundation.
NextGIS helped to design and create user interface and provided extensive expertise on development and refinement of Web GIS. Last but not least, resultant Web GIS uses 3 out of 4 basic products of NextGIS software platform.
centralized storage for georeferenced blueprints and attributes
vizualization of blueprints and their extents on the map;
data table view;
table filtering using one or more fields;
full attributes search to quickly locate needed blueprint;
show scans and photocopies of historical blueprints;
interactive transparency management.
digitize blueprints extents;
geographically reference blueprints using Helmert transformation;
specialized tool for batch upload and manage data.
If your archives are still waiting to be put in GIS – let us know, we'll be happy to help!