Photos in QGIS, coordinate search and PostGIS database diagnostics – NextGIS updates

We are proud to present a new set of updates to the NextGIS Platform. Over the past two months, we have focused on new ways to work with photos and added more tools for working with geodata.
NextGIS Web
Search for objects on the web map by coordinates
We have added a search function by coordinates. Even better, you can enter coordinates in a range of different formats:
— 40.730, -73.935
— 40.730, 73.935-
— N 40.730, W 73.935
— 40.730° N, 73.935° W
— 40 43.836, -73 56.114
— N 40 43.836, W 73 56.114
— 40° 43.836′ N, 73° 56.114′ W
— 40° 43′ 50.196″, -73° 56′ 6.871″
— 40° 43′ 50.196″, 73° 56′ 6.871″-
— 40° 43′ 50.196″ N, 73° 56′ 6.871″ W
⠀
Troubleshooting connected databases
External PostGIS databases require administration and configuration to function properly.
The new database diagnostics functionality will allow you to perform a series of checks when connecting your databases to NextGIS Web. The diagnostics will highlight possible problems and display the necessary information.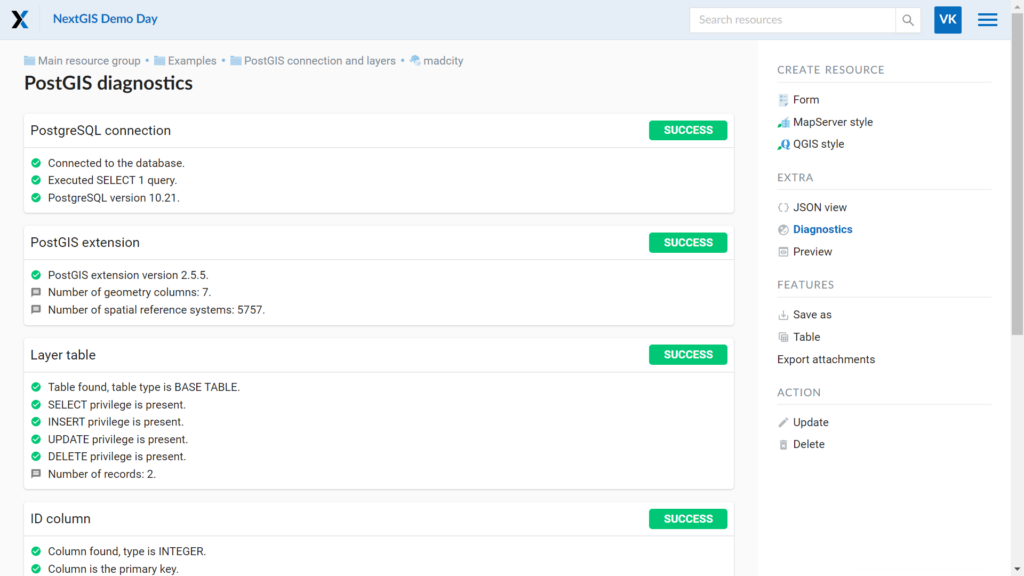 ⠀
Download vector data in KML/KMZ
When exporting a vector layer from NextGIS Web, you can now choose between KML and KMZ formats. Data can be downloaded in the ten most common formats:
— ESRI Shapefile (.shp)
— GeoJSON (.json)
— Comma Separated Value (.csv)
— AutoCAD DXF (.dxf)
— MapInfo TAB (.tab)
— MapInfo MIF/MID (.mif / .mid)
— GeoPackage (.gpkg)
— KML (.kml)
— KMZ (.kmz)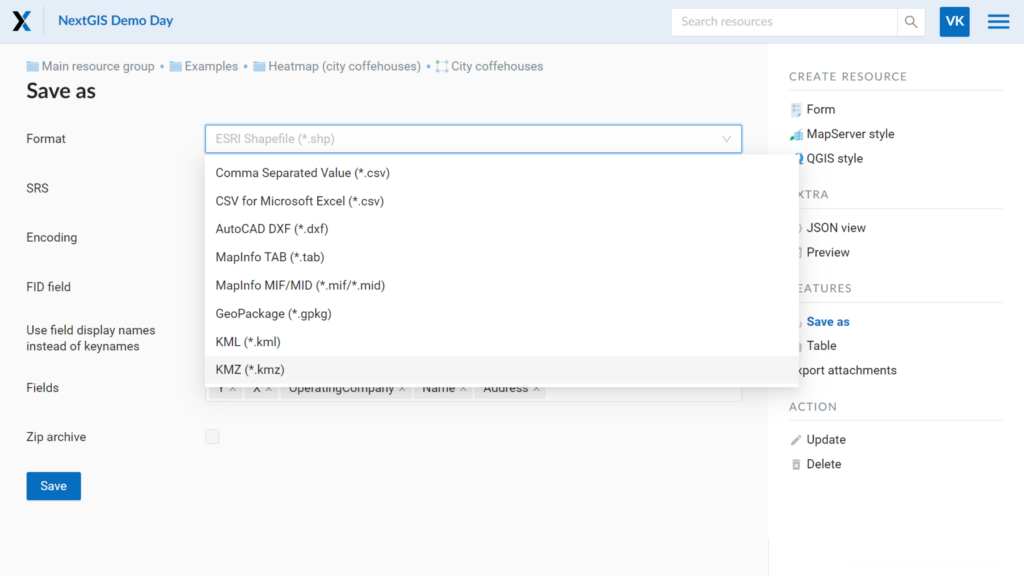 ⠀
NextGIS Toolbox
Batch add photos to Web GIS
Layers in NextGIS Web support the ability to add and view photo attachments to objects. This feature is important when working with interactive maps. To easily and quickly add photos to objects, our team has developed a new browser-based tool of NextGIS Toolbox.
In GIS, each vector layer object has its own number, which can be found in the attributes table. To add a photo, you need to create folders named by object numbers and put photos to be attached to the corresponding objects in these folders.
Go to the tool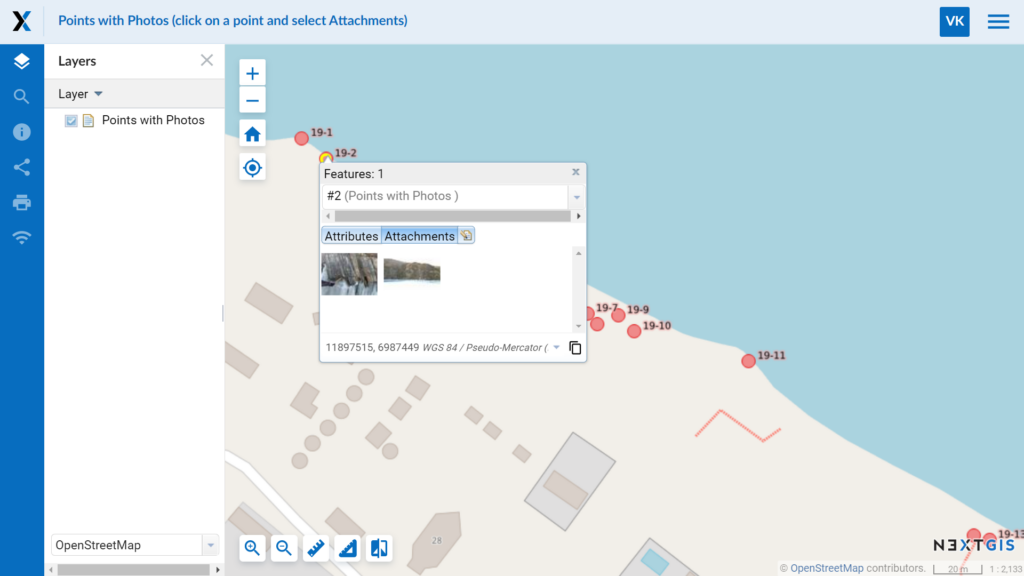 ⠀
Plugins for QGIS
View web-based photos in QGIS 3
We have adapted our Identify+ plugin for QGIS 3.
With this plugin you can view photos attached to Web GIS layer objects in the QGIS interface without downloading the images. The plugin can also add photos to objects and remove them.
Identify+ is convenient to use when you import a layer with attachments from NextGIS Web into QGIS.
⠀
NextGIS Data
Geodata by city
Now you can order geodata for cities of all countries. Populated areas of large countries are represented by regional centers and major cities.
If you need to find a small populated area or the desired city is not on our standard list, you can still order the data. See how to search the map for the city or area in this video.
Once you select the desired locality, specify the type of data you want to get:
— Basemaps based on OpenStreetMap data (current or historical back to 2009)
— Microsoft's building data
— Elevation, including contours with a specified step
— Satellite imagery – cloud-free and seamless mosaics based on Sentinel
Order data
⠀
Use all the features of the NextGIS Platform with Premium
Create interactive maps and publish them online
Customize access to your geodata to collaborate on projects
Use the mobile app to collect data in the field
Handle geodata quickly and easily with browser-based tools
Buy Premium
⠀