NextGIS Mobile 2.4: QMS and nextgis.com support, new editing and styling improvements
New version of our Mobile GIS – NextGIS Mobile is out. NextGIS Mobile works with many kinds of spatial data and can visualize, edit and synchronize spatial data with the server. New version features: QMS and nextgis.com support, new editing, symbology and much more.
NGM can be used either separately or as part of the corporate GIS architecture, for example for data collection, control or assessment. At NextGIS we are using NGM as a platform for custom products development.
If you're looking into using NGM for development or implementation of your corporate GIS, let us know and we will be happy to discuss options.
Support Documentation Try new version
Here we will discuss main improvements of the new release. Full list of changes can be found here.
nextgis.com integration
As you probably now, we've recently launched nextgis.com – new service where you can created your cloud Web GIS with zero programming right in your browser. The main news is that NextGIS Mobile now supports this service.
What can NGM do with nextgis.com:
Connect and download vector and raster layers from nextgis.com
Add web maps created in nextgis.com as a single layer
Edit connected vector layers and sync changes
Easy basemaps (QMS integration)
Next important news is support of our catalog service – NextGIS QMS. This service makes adding dozens different basemaps as layers super easy.
Shown below: seaching for services, OpenStreetMap+Strava, Sputnik.
Additional map tools
We've added a number of useful tools: measurements of distances and areas, scale bar.
All tools can be switched off on the settings screen.
New editing capabilities
While editing, it is now possible to undo/redo individual node changes. Earlier it was possible to undo/redo only changes to the whole feature.
Created features are automatically validated for errors in topology, such as self-intersections. NGM will notify that problem exists and won't let you save such feature.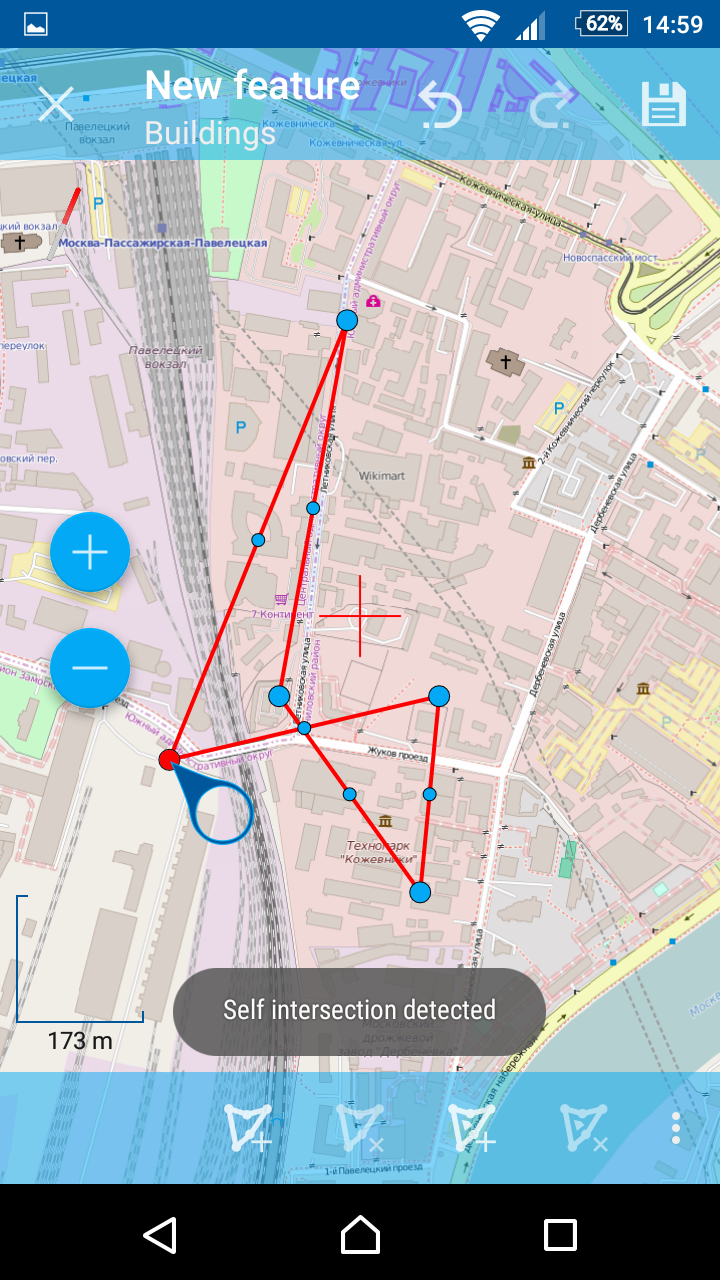 Styling and extended layer properties
We've extended layer styling capabilities. In addition to fill color, now you can modify border, it's color, width, transparency. You can also use categorized type of legend, where in one layer you can different symbols for different features based on their attributes.
As the number of useful properties of each layer is growing we re-organized them in tabs: Style, Fields, General and Cache.
Other improvements
Feature information now includes it's geometrical properties (coordinates for points, area for polygons, etc.)
Color can be set up for each track separately
Not active buttons on editing toolbar are now clearly different from active ones
Synchronization progress bar
New dialog that warns if GPS is turned off