NextGIS Formbuilder
NextGIS Formbuilder is a desktop application for creating and editing forms. Forms can be uploaded into NextGIS Mobile to be rendered on the fly for convenient data collection. This software serves as a platform for our custom software development projects geared for specific requirements.
NextGIS Formbuilder is available as Free and Pro version.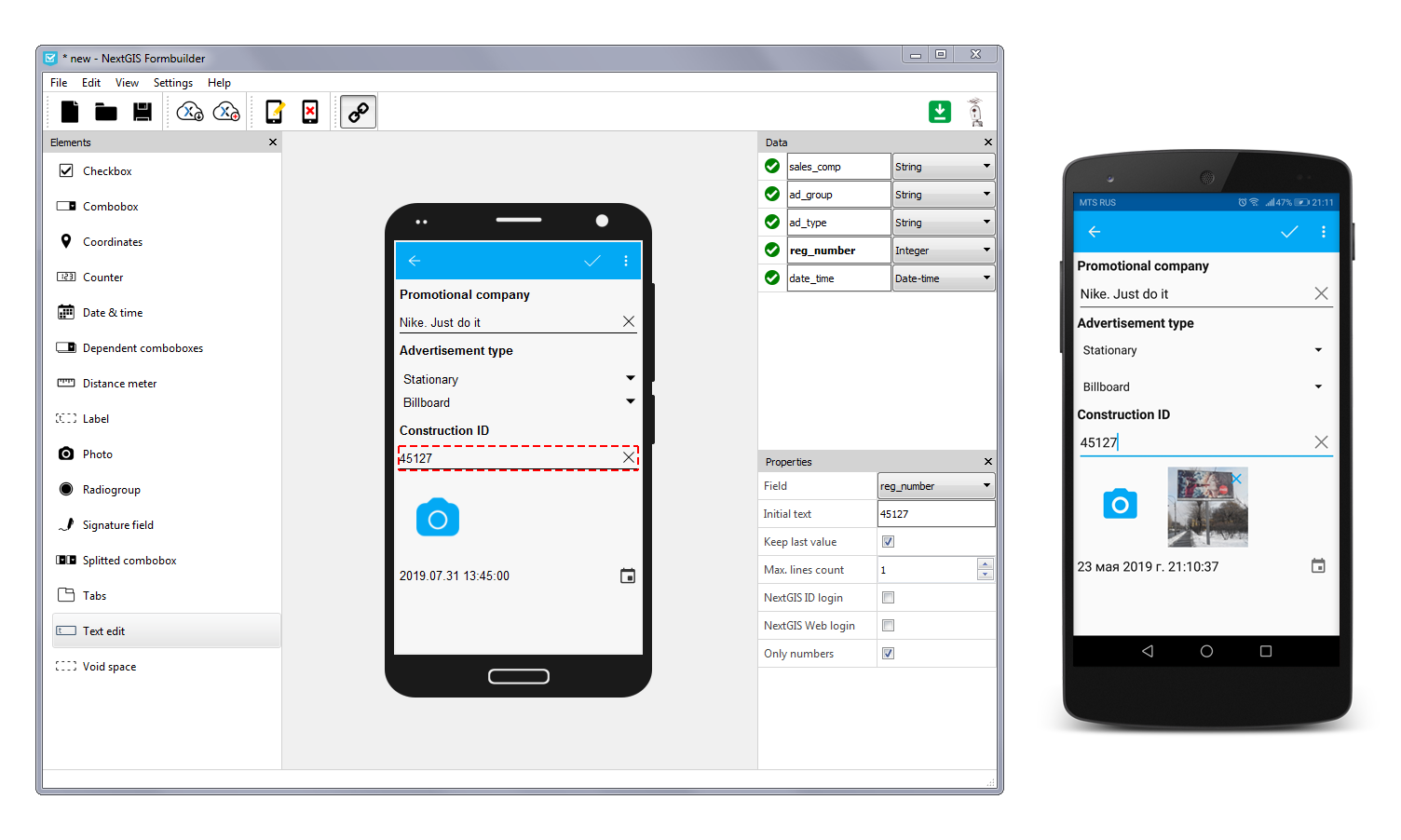 Features of NextGIS Formbuilder Free
NextGIS Formbuilder is able to:
Create new forms from scratch or based on existing geodata
Use more than 10 different controls
Link controls to datafields
Set different options for controls for better behaviour
Save set-up form together with data for upload to NextGIS Mobile
Features of NextGIS Formbuilder Pro
Connect and send forms/layers to Web GIS
Form controls: Tabs, Distance meter, Dependent comboboxes, Coordindates, Signature, Splitted comboboxes, Counter, Photo.
NextGIS Formbuilder Pro is part of nextgis.com subscription plans. Subscribtion allows to store your data in the cloud, create Web maps, data collectoin projects, use Pro-functionality of NextGIS Mobile and QGIS, get support from NextGIS and much more.
You need to be on Mini or Premium subscription to use NextGIS Formbuilder Pro.
Buy NextGIS Formbuilder Pro
To start using Pro, sign in in Formbuilder with a button

in the upper right corner of the toolbar.
Download NextGIS Formbuilder
Windows 32 bit Windows 64 bit Mac OS X
Source code for the current version.