New version of NextGIS Connect 0.9 is out. NextGIS Connect helps you link your desktop and your Web GIS created at nextgis.com.
Here are the latest updates (previous news can be found here and here):
Changes in the resource tree
New raster layer icon ;
QGIS vector style and MapServer vector style now have identification prefixes (qgis) and (ms);
Sorting: resource groups are shown first and all other resources next in alphabetical order.
New functions
"Create Web Map" – create a web map for selected vector layer right in web GIS. Web map resource will be created in vector layer parent directory. Web map will automatically open in the browser;
"Download as QML" – download QGIS vector syle as a QML file;
"Open in Web GIS" – open resource's web page in the browser;
"Rename" – set new name for a resource.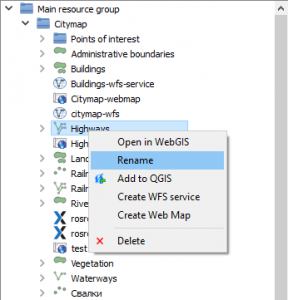 New functions
"Add to QGIS" – now also available for QGIS vector style. This creates a vector layer from  selected style's layer with style automatically applied to a new layer in QGIS.
New module settings
"Abort project import after first layer import failure" – if option not set import process not interupt but continue with next layer;
"Open web map automatically on creation" – if option is set any automatically created Web map will be opened in web browser on process completion.
Additionally
Taken into account QGIS proxy settings.
You can find more information on NextGIS Connect in a special section of Get Started with your Web GIS manual.