We're absolutely thrilled to announce something that we worked on for the last 3 years – nextgis.com. This cloud geospatial service will allow you to create your Web GIS in the browser!
More information Create your Web GIS
Using nextgis.com you can:
Upload and download geodata;
Create unlimited number of web maps based on this data;
Work with this geodata together with colleagues and friends anywhere;
Connect to your data from mobile and desktop geospatial software;
Use our service to develop your own geospatial applications.
To get started you'll need to register and get NextGIS ID – your account that lets you start working with your Web GIS now and more geospatial services from NextGIS soon.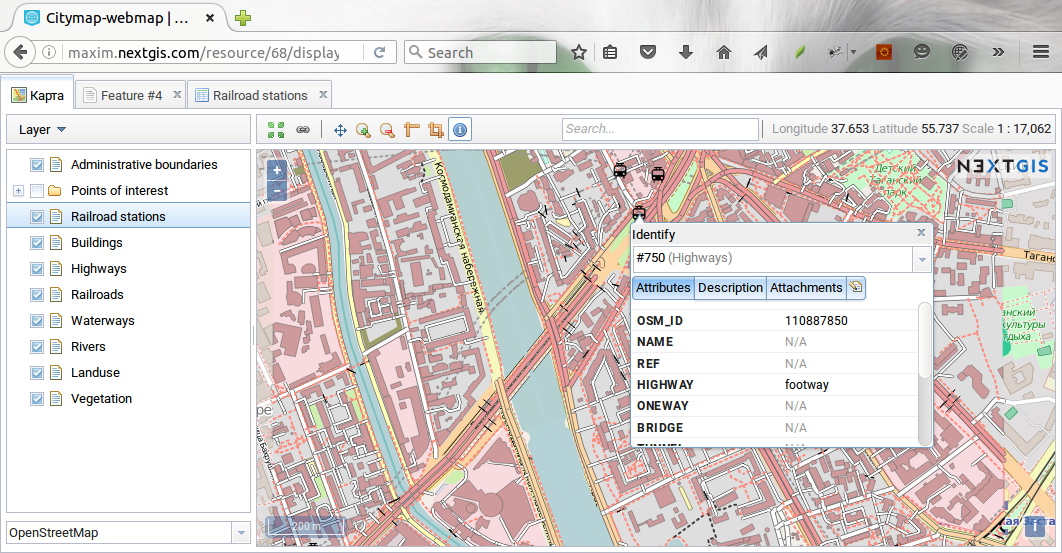 Conditions
Our service is currently in beta, and some changes in functionality and conditions are possible in the future. We will let you know about them in advance. Current conditions for free use are:
No limits for data uploads
No limits for number of resources, web maps
All resources must be open for reading by any users and guests
Commercial
You can also sign up for a commercial plan that will get you:
Resources privacy – you can hide your resources from other users;
Custom domain name – you can use your domain for your Web GIS;
Brand – add your company logo and design elements;
More speed – additional resources for faster maps and data exchange;
Data security – preserve your data using automated regular backups.
We will be happy to send you more information about our commercial plan on your request.
Useful links
We've gathered a few links for you to easily get started with your Web GIS (you can see them all on one page here):
We have lots of new ideas and plans for our service. Please join the discussion on Facebook and Twitter or let us know what you think by sending us an e-mail.