Work with geodata in your browser
Eliminate the need to dive into GIS with NextGIS Toolbox collection of browser-based tools.
Clips one polygonal layer with another

Convert format of vector layer

Merge vector layers

Prepare satellite data
More than 40 more tools are available in NextGIS Toolbox.
Get access with a Premium plan.
⠀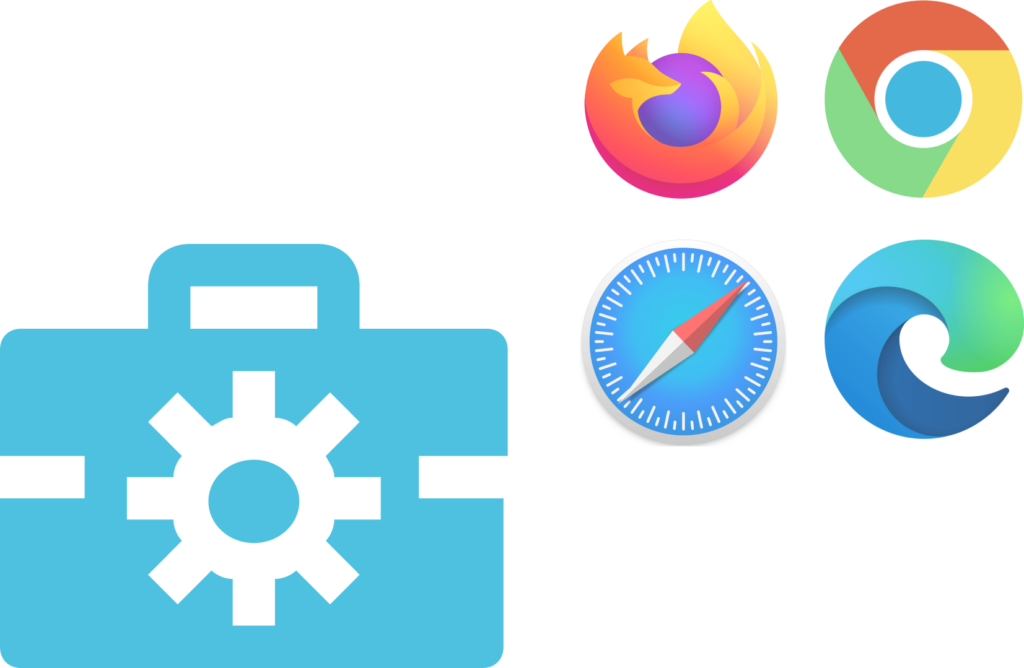 ⠀
⠀
The goal of NextGIS Toolbox is to simplify geodata processing. The user no longer has to think about where the scripts are located, how they run, and remember what parameters are passed.
⠀
⠀
Choose the right instrument
The collection includes about 50 instruments and is constantly being added to.
To the list of tools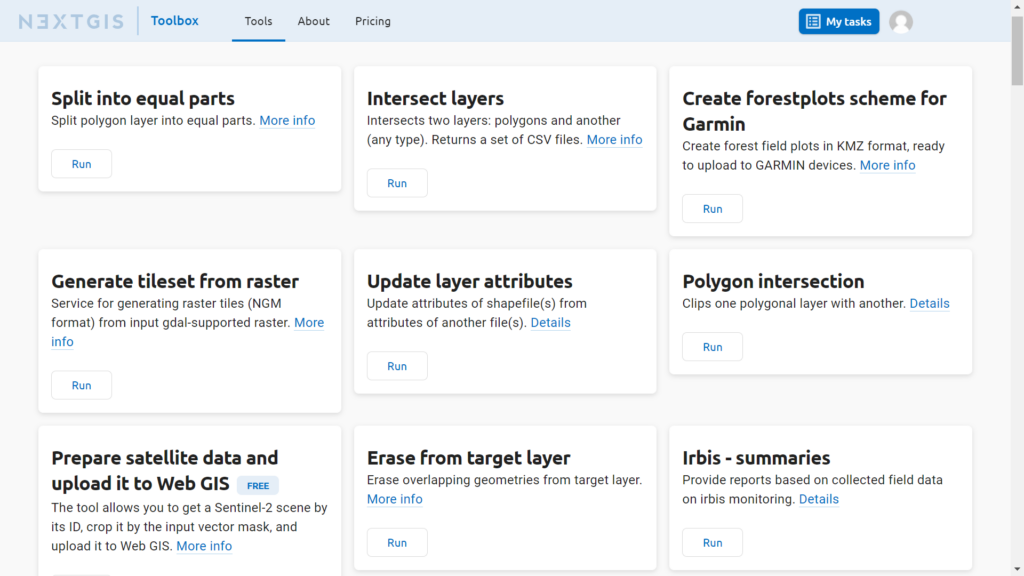 Just fill out the form
To run the tool, fill in the form fields and click "Run".
Task execution time depends on the amount of data being processed. Most tools require a few seconds to a minute.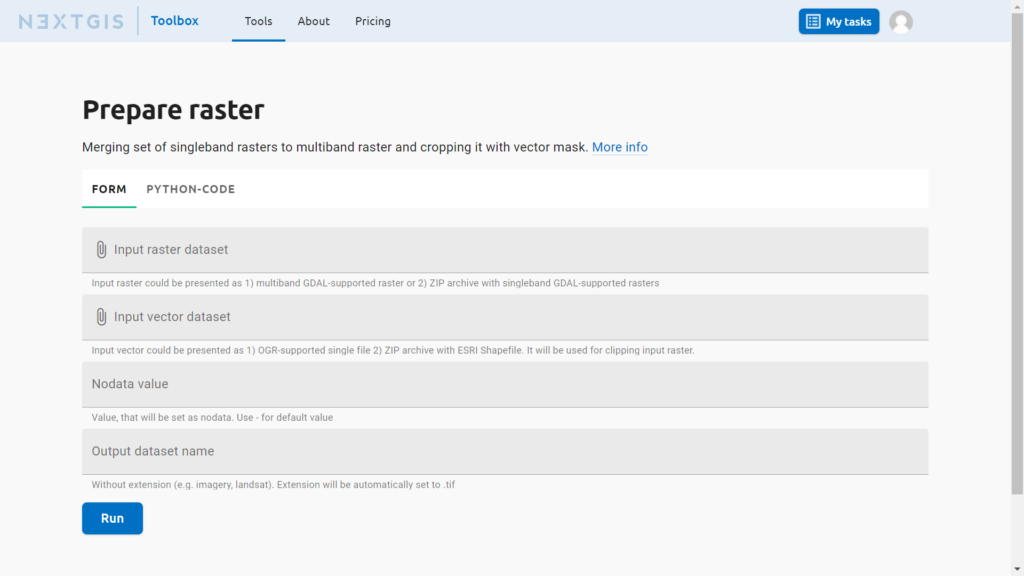 For developers
If you are a developer, you can run the NextGIS Toolbox tools from your program.
Each tool is accompanied by an example Python code to run it. The launching system for all the tools is the same.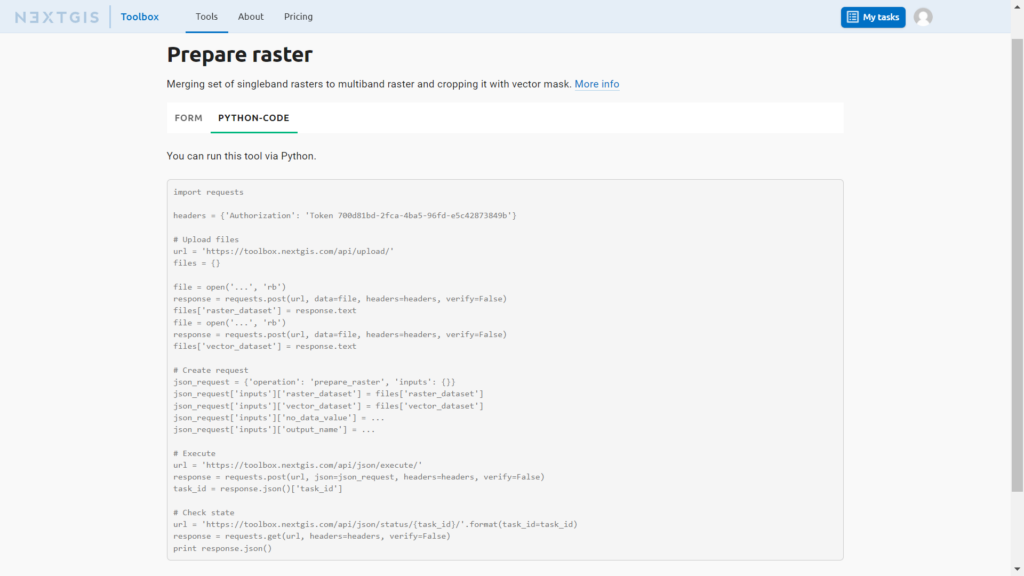 ⠀
Baseline data and results depend on the instrument
⠀ ⠀
Layers of data in different formats
Links to resources from your Web GIS
CSV, XLSX
tables

Reports
in XLS format
Derived
layers
Modified data in your Web GIS
⠀
⠀
⠀
What Users Say
⠀
The «Dynamic Map of Russia's Borders» project required the use of rather complex technical solutions transforming «raw» historical and geographical data into a web map. Each update of «raw» geodata entailed redrawing of the target layers required by the frontend.

Initially, it had to be done in scripts, but the automated launch of the data preparation tool with the construction of the polygon topology, which NextGIS developed, allowed us to be independent when we run the process, not thinking about script support.
Alexey Frolov
Laboratory of Historical Geoinformatics,
senior researcher at the Institute of General History
of the Russian Academy of Sciences, project Runiverse
⠀
Maps and visualizations are great, but for decision-making we often need a convenient and quick way to get a report on ship entrances into the reserve boundaries, where they should not enter without a permission. Thanks to toolbox, we have the easiest way to get such a report as often as we need. We are not programmers, but we can fill out a small form, receiving the output report in Excel with all necessary data.
Vadim Krasnopolsky
WWF Russia
⠀
Our company provides a range of services in the field of forest inventory. With the help of the toolbox, we save time on the formation of forest plot explications (special reports listing azimuths and lengths depicting an area). Now, instead of performing a dozen actions in ArcGIS for each logging area, we simply load the shapefile, and the calculation of azimuths and report generation are automatically completed.
Sergey Tyutrin
освоениелесов.рф
⠀
⠀
⠀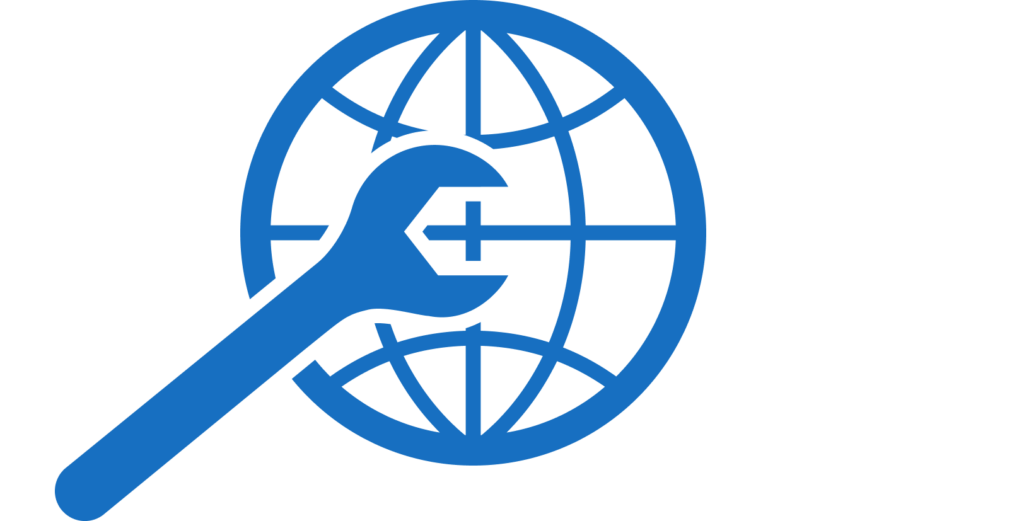 ⠀ ⠀
⠀