NextGIS Logger
NextGIS Logger is a data collector for Android that records information from surrounding data sources and internal sensors.
This is a free and open-source software that has no limitations for redistribution. You can use this software in any setting, be that home use or commercial applications.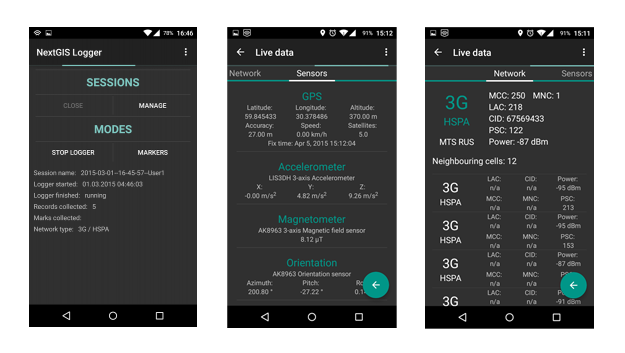 NextGIS Logger works on smartphones and tablets under Android 3.0 and above.
NextGIS Logger collects data from:
Cellular towers,
GPS/GLONASS,
internal sensors: accelerometer, gyroscope, orientation, microphone (noise level),
pluggable external sensors (Arduino-based).
NextGIS Logger also allows you to:
Use user-defined list of category names to place on top of the log.
Manage logging sessions and share results,
Show collected data in real time (Live data mode),
Set up logging parameters (interval, sensors).
Why subscribe?
To use all NextGIS Logger capabilities we recommend you sign up for one of our Plans. What you'll get:
Supported version with extended functionality
Access to updates
Bug-fixing
Direct support
Apk file to install without google play market
By signing up you also get access to a full range of NextGIS products! Read more.